Bodrum - Gulf of Gokova - Bodrum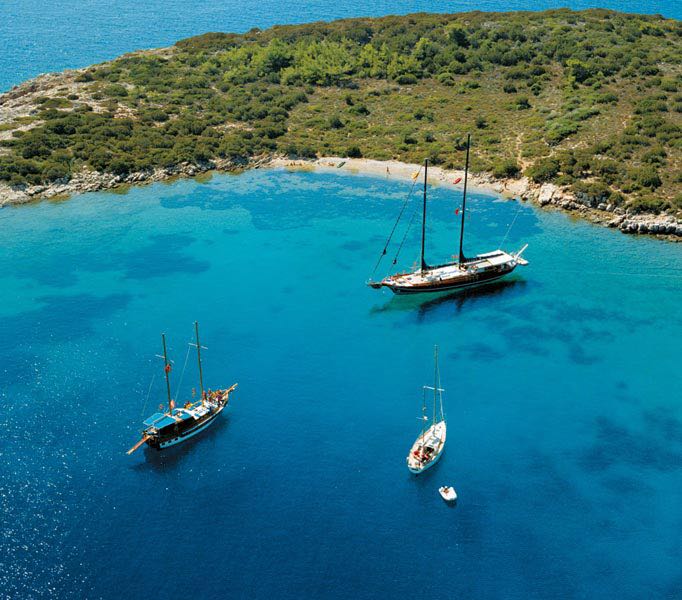 Day 1: Bodrum
On the first day of your "Blue Voyage" we will be welcoming you to introduce you with our captain and yacht personnel. After making sure that you are comfortable with everything about your yacht we will inform you about your "Blue Voyage" by answering your questions regarding the tour. During this small introduction and meeting we will be serving small treats that are prepared for you with a great care.
Bodrum is considered as one of the best "Blue Voyage" stops. It is the paradise of western Turkey, famous for its old mythological figures and stories, ancient cities and Mausoleum of Halicarnassus which is one of the seven wonders of the world. Not only with his history but also with the love of the famous writer Cevat Şakir, Bodrum became a frequent subject in literature and embraced the novelties for love and discovery. In addition to this aspect, Bodrum will be one of the best beginnings for you with its nightlife, different tastes and fun world.
If the weather conditions are favorable, our captain will open the white wings of your yacht, allowing the blue waters to drag you into the Gulf of Gökova and to embrace the small coves here. While the sea of ​​this place will fascinate you the warmth of the townspeople and the traditional texture of the houses will make you feel at home and make you forget all the burdens of daily life on your shoulders.
On the first day of your "Blue Voyage" we will make you have a great night beginning with a delicious dinner in Orak Island, the most favourite cove of Bodrum. The rest of your night will be accompanied by the smell of your wooden boat and lullaby of the sea with its therapeutic effect.
On the way to Orak Island, which is the first stop of your "Blue Cruise", you can see the dolphins swimming and jumping by your yacht. On this island, you will also see a magnificent underwater world. While you are swimming in the crystal clear water of the sheltered bays on this island, which has become the kingdom of the old olive trees, you will leave yourself completely in the arms of nature. While you are witnessing and enjoying these unforgettable beauties, the special chef of your "Rental Boat" will prepare you a lunch feast. At this point, you can take a break from natural perfection and rest on your yacht to pamper your palate.
Day 2: Cokertme Bay
In the morning, you will open your eyes with the warm lights of Bodrum and after having your carefully prepared breakfast you will enjoy swimming in the exquisite crystal waters of Orak Island. After lunch here, our captain draws your rental boat to Cokertme bay.
This region, which has been the subject of Bodrum folk songs for years, is the bay of a charming town that will take you to other dimensions. In this bay you can enjoy both Turkish traditional activities such as belly dance and Greek vibes with its restaurants, streets and green-blue nature. At the same time, these bays will protect your rental boat from the dangers of the wind and will allow you to have your night rest safely on your boat.
Day 3: Seven Islands, (Kufre/ Long Bay), English Harbour
It is the third day of your "Blue Voyage"...The sea, the islands and your rental boat already feel like home. You wake up from your peaceful sleep with the first light of the day. Your captain will sail your boat towards the Seven Islands where it is full of frankincense trees, fascinating resin smell and intriguing underwater world. Here on your rental boat you will experience other joyful sides of "Blue Voyage" doing unique activities such as snorkeling, freediving, fishing with rod and harpoon equipments or sponge hunting to make your trip unforgettable. Then we will anchor at Küfre Bay, which is a heaven with its natural beauties. Here, you can do trekking and you can relax feeling the soft wind of the pine trees, which are the inhabitants of the forest.
While your rental yacht is anchored at this bay you can also visit Uzun Island, Mertil Island, Zeytin Island and Small Islands to see the hidden beauties of Turkey. Additionally, Çamaltı, Gökağa. and Karaağaç are the ports that we will anchor. In each stop you will be able to enjoy sun, relax and sleep with the lullaby of the sweet wind bringing different look to your experience of "Blue Voyage". Lastly, we will sail to the English Harbor, known for its peaceful nature and deep blue water, also witnessed the history during World War II and ported to British battleships. There you will have an amazing night sleep after having your dinner on your rental boat.
Day 4 - Cleopatra Island, Karacasöğüt
On the 4th day of your "Blue Cruise", we will turn your rental yacht into the Sedir Island, which hosts a number of pieces such as the temple of Apollo and the remains of the historic Kedrai City walls and towers. There you will be fascinated by the beauty of the ancient times and cities while being able to relax on the legendary golden sands of Cleopatra beach warming your feet. In the meantime, our chef will prepare you a delicious dinner with various kinds of dishes and later on our captain will anchor at Karacasöğüt Port.
Day 5: Longoz Bay, Tuzla Bay

Once again, you will wake up to the morning light of the blue coves and have your breakfast served on your rental boat. Later on we will hit the road to anchor at Löngöz Bay where the Red Pine forest surrounds you and portrays and incredible landscape. Here you can take a quiet walk into the old pine trees smelling the soil, have your drinks at a local bar, Ali Baba, with its warm atmosphere to meet new people, and have pleasant moments with your group of friends or family. After this point, we will anchor your rental yacht at Tuzla Bay. Here you can find peace by feeling the shades of blue and have your delicious dinner. You will have a good night sleep accompanied with tiny waves caressing your boat.
Day 6: Kargılı Bay, Kisebuku (Alakısla Quay)
The 6th day of you "Blue Voyage" will start early in the morning by anchoring your rental boat at Kargılı Bay (Molla İbrahim Bay). There you will be able to have lunch and have some rest. From there we will move towards Kisebükü where is famous for its fascinating history and has been the host of Byzantine Monasteries. You will be also amazed by its beautiful nature full of pine trees and crystal blue water. In this bay you can visit Yalıköyü, Akarca, Catal, Yazlık, Hamam, Sarnıc and church ruins which had witnessed 4000 B.C. You can also enjoy the pretty view of oleander and pine trees and cool off by its clean water.
Day 7: Pabuç Point, Yalıçiftlik
You are now on the 7th "Blue Cruise" and the coves feel like home to you. The sea keeping you relaxed and away from your daily hassles all trip long will take you to another perfect location on the last day of your "Blue Cruise": Pabuç Point. Being famous for its emerald green water this place will enchant you and you will be looking forward to see the depth and meet with sweet creatures of the sea. There your hunger after this magical experience will be satisfied with the lunch prepared by our talented chef. In the afternoon our captain will take you to Yalıçiftlik for five o'clock tea with the view of its breathtaking nature. You will spend the night there for a nice dinner and comfortable sleep. After the dinner you can enjoy the nightlife of Bodrum or take a walk along the coast shining under bright lights of the city smelling the beach.
Day 8: Bodrum
Here comes the last morning of your "Blue Cruise". Perhaps you were at the nightlife of Bodrum and came back to your cabin in which you can hear the soft whisper of the sea and smell wood of your rental boat. You woke up to another Bodrum morning after a delightful sleep. We are heading to Bodrum Port after a delicious breakfast. Now you understand Cevat Şakir better and why he was in love with here. You conquered the coasts just like he did and ended your "Blue Cruise" with many spectacular memories...