Kemer-Kekova-Kemer Cabin Charter
17.02.2021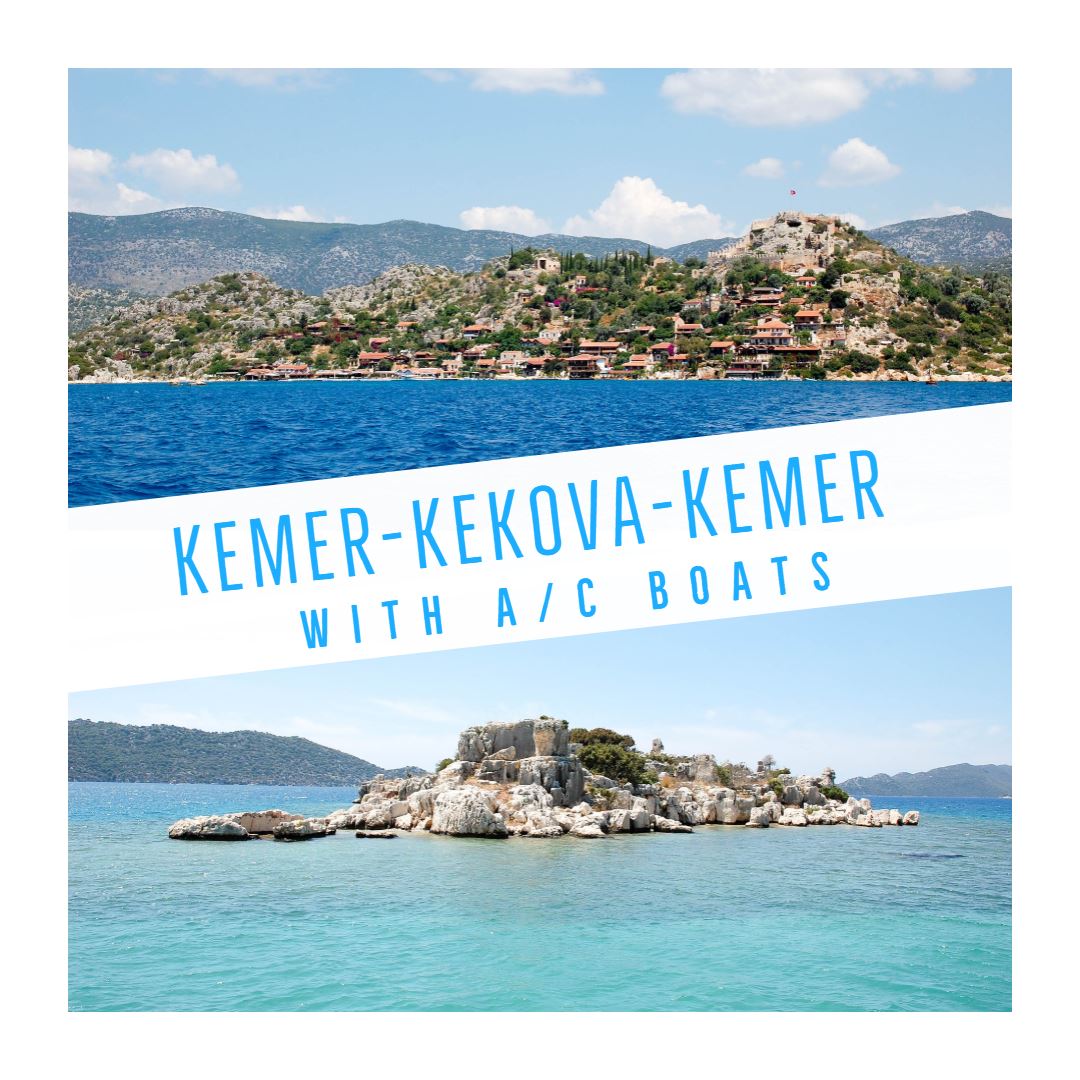 1.Gün: Kemer
This region seves the sea and orrange trees smell as a mixture like Garden of eden . You can chek in the boat after 15:30 pm and start to enjoy your vacation. After a nice dinner on board , you can visit the Kemer city which has many different options for night life with its Bars, Restaurants and Big Discos.
2.Gün: Olympos – Adrasan
After a nice brakfast you will leave the harbour and start to sail amazing bays of mediteranean . First stop of this beautiful cruise is Olimpos .
Olympos name is decicated to a border mountain between Agean And Mediteranean seas which is ruled by Roman empire , Lyka kingdom ,Venedic pirates , then Turks. Olympos mountain has a speacial nature with its marvelous sinary and many people visits there to see the natural Burning stone . Arcihologists and divers are also intrested this region because of its history and nature. The beauty of the bay will take make you feel in a dream with its beauty . After Olimpos bay our second stop will be the place called Adrasan which is covered by pine trees all over . Dinner will be in Adrasan bay and you will spend the second night in this beautiful place.
3.Gün: Demre – Çayağzı – Gökkaya Koyu
After a peaceful night and rest , we will start to sail early hours of the day through Demre which is famous with Greenhouses.After a breakfast break in Çayağzı bay you will visit the ancient city called Myra and St Nicholas church you will have time to swim in crystal clear bay to relax . You will definetly fall in love with this beautiful city which is covered by orrange smell all over.
*Cultre Tours on this place are optional .
4.Gün: Tersane – Üçağız
After the breakfast , the captain will depart to sail to Tersane island .After swiming break and luch time in Tersane island (Ancient name of this place was Talendria ) we will pass to Uçağız bay tos tay overnight . This region is covered by Aperlai, Simena, Theimmusa and Istlada ancient cities is taking lots of attention with its history . Some part of the ancient city is destroyed in time by earthquakes and some part of the city is now underwater. The local poeple are very friendly and hospital around this region. If you prefer you can join an optiaonal Daily tour to Charming place to walk in a canion covered with a river called Saklıkent which is a secret garden of heaven .
5.Gün: Simena- Kekova
We will depart to Simena after a marvelous breakfast in Uçağız bay .This place has a strategic importance from 4th century BC . The Simena castle , ancient ruins and Kings tombs will take you a journet to past and will magic you by its beauty.
Then we will pass to Kekova bay tos tay overnight .
6.Gün: Ceneviz Limanı – Phaselis
Our captain will turno ur route to Ceneviz harbour early in the morning then to place called Phaselis which was an important ancient city of the past time with its natural harbour. This is such a place that you can t find eneywhere else in the World smiliar. You will close your eyes and start to dream of the history while you are walking between the well presented ancient city streets. . You will find a antic theatre , aquaducks , a Roman bath ,agora just by the sea and start to imagine the life in this city centuries ago. We will stay overnight in this garden of heaven .There are optianal land tours fort he clients .
7. Gün: Ayışığı Koyu – Kemer
After the breakfast we will depart to sail through Ayışığı bay . After swim in crystal clear bay we will depart to Kemer to stay lastnight of your amazing blue voyage .You will have a chance to go to Antalya city centre after dinner. Antalya is the capital of tourism in Turkey . Millons of people are visiting this city every year to fell its marvelous atmosphere.
8. Gün: Kemer
After breakfast you can chek out at 10:30 from the boat with unforgetable memories and you will be impatient to meet here again for another route for next year.
Ramses Yachting co . can change the routes to make you feel more comfortable according to captains safety offers lead to wheather and sea conditions.
IMPORTANT NOTE
: Air conditioning can be used up to 6 hours a day. Our Tour Operator can make changes in the tour schedule for guests' safety and rest, depending on the sea and weather conditions.
PRICE DETAILS
WEEKLY CABIN CHARTER PERIODS

PERIOD

DATE

PRICE PER PERSON

1
April 24th - May 14th / October 16th - 27th
330 EURO
2
May 15th - June 04th / September 25th - October 15th
420 EURO
3
June 05th - 25th

/

September 04th - 24th
490 EURO
4
June 26th - July 16th

/

August 28th - September 03rd
590 EURO
5
July 17th -

August

27th
680 EURO
PRICE DETAILS FOR ALL PROGRAMS
• Prices are based on accommodation for 1 person in a cabin for 2 people with 1 week of full board and are Euro denominated.
• Single Supplement is 60%.
• There is no discount for children in any program. Children under 12 are not allowed on the boat.
Port charges are 50€ for weekly tours per person and should be paid cash up on arrival.
INCLUDED IN THE PRICES
• Full board accommodation: breakfast, lunch, 5pm tea cake-biscuit service and dinner.
• 0,5 L Water is given free of charge during meals.
• Port costs and exit procedures.
• Ship agency expenses for cruise documentation and necessary procedures.
• Mooring fees.
• Crew service.
• Utility water.
• Diesel and gasoline expenses
• Clean bed linen and bath towels are also included. (Sea towel is not provided.)
• Free use of equipment on the yacht (mask, pallet, snorkel, fishing tackle etc.).
• Yacht insurance (We recommend that you take your personal travel insurance).
• VAT
• Within the program of Greek Islands programs
-All port taxes and mooring fees related to boats in foreign land waters.
-Customs procedures and costs related to boats in foreign territorial waters.
NOT INCLUDED IN THE PRICES
• Alcoholic, non-alcoholic beverages and bottled water are purchased from Yacht Bar for the price.
• Entrance fees for the ruins on the tour route, museum entrances and optional land tours
• Personal arrival and departure fees during the Greek Islands tours
• Airport transfers
**** IMPORTANT: WITHIN CABIN CHARTERING PROGRAMS; CULTURAL TOURS, RUINS AND MUSEUM VISITS, OPTIONAL LAND TOURS AND AIRPORT TRANSFERS (EXTRA) ARE NOT ORGANIZED BY US BUT TOUR OPERATOR.
*First departure on April 24th / Last departure on October 16th